Basia Mindewicz; Icon Painter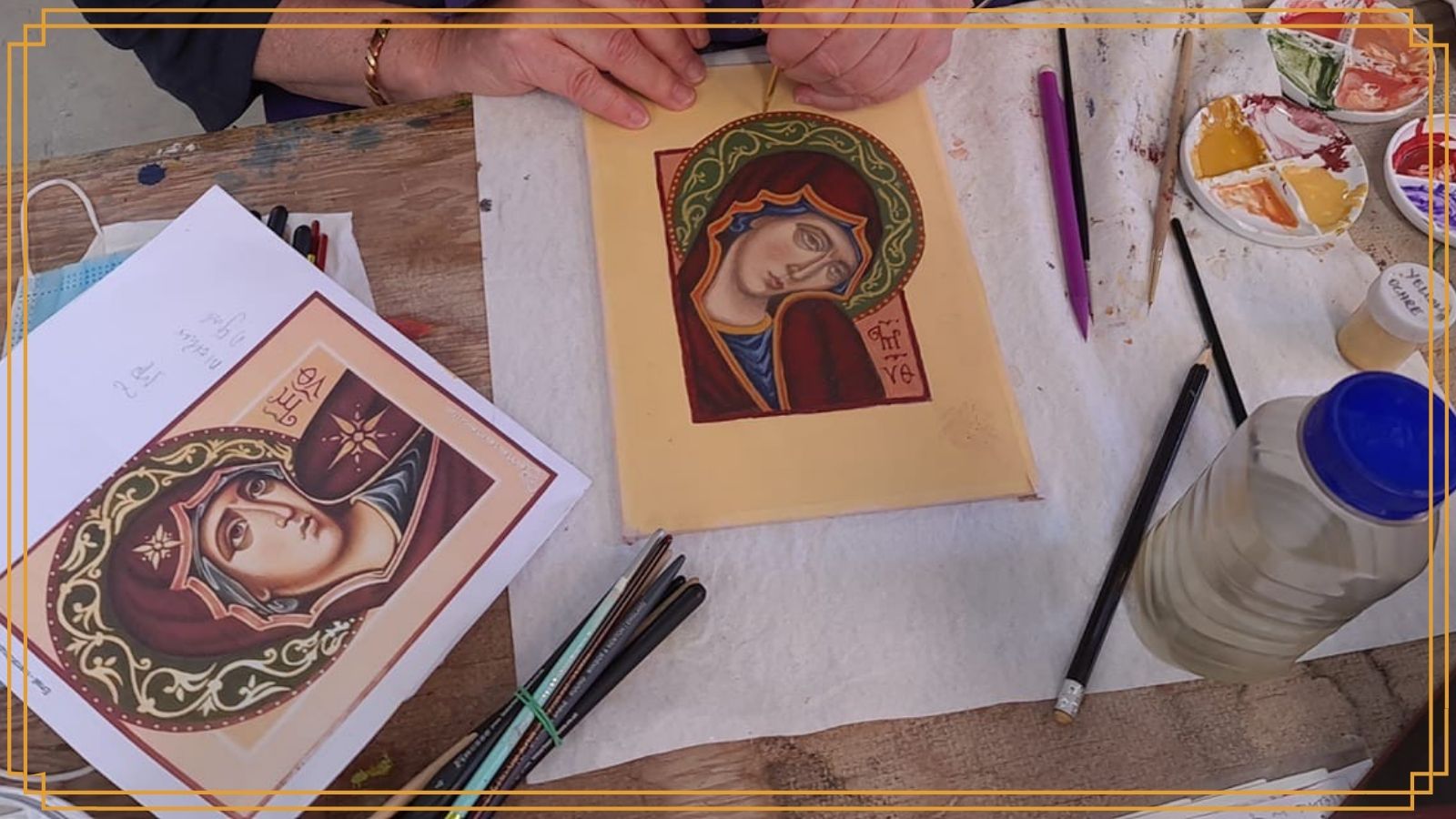 It is a real honour to welcome back to The Nomads Tent the Polish artist and icon painter Basia Mindewicz. We are delighted to present a very special opportunity to take part in a workshop with Basia during our 2021 Christmas show. Basia will show you how to create your very own miniature icon, to hang on the wall or present as a very special gift. In the process you will learn the ancient technique of Egg Tempera using egg yolk and dry pigments.
Trained in the art of icon painting in Poland, Basia has run many workshops and curated icon exhibitions in Poland and Edinburgh where she lives and works. 
You can buy tickets for the workshop here.
Background:
Born in 1978 in Warsaw, Basia is an accomplished icon painter and contemporary artist. She was trained in Poland in the College dedicated to iconography and studied ancient techniques of egg tempera and gold gilding. For many years Basia has been mainly working in a very traditional style learning the ancient language of icon. When she came to Edinburgh she started exploring other ''languages'' searching for more personal and contemporary ways of depicting her subject matter. Basia sees her development as an artist as a process of uncovering a truth about who we are as human beings and what we need to become whole. She views icon painting as a spiritual practice which grows in silence and stillness.

Basia graduated from The Maria Grzegorzewska Academy of Special Education, MA and College of Iconography (Policealne Studium Ikonograficzne) in Bielsk Podlaski in 2008.
She has been working for a major icon painting workshop in Poland and has organised many private workshops and residential courses. Basia is the founder of the Edinburgh School of Icon Painting and is a member of the British Association of Iconographers

Workshops:
Droga Ikony (The way of Icon)  http://www.drogaikony.org.pl/
Studium Chrzescijanskiego Wschodu (School of Eastern Christianity)
Retreat at Craig Lodge Family House of Prayer, May 2015.
3 day workshop at the Woodbrooke Quaker Study Centre, march 2016
''Art of Icon. Art of life'' retreat at Hacienda Los Olivos in Spain, may 2016. http://www.haciendalosolivos.org/

Basia has taken part in many group exhibitions in Poland and Scotland both as exhibitor and curator.

Show highlights:
"Icon Today" Contemporary Icon (Ikona Dzis, Wystawa Ikon Wspolczesnych), Exhibition was a part of the Conference under the same title 6.06-31.07.2008 at the Monastery of Dominicans in Warsaw, Poland
"Oblicza Ikony" Ukrainian and Polish Contemporary Icon, The Museum Of South Podlasie in Biala Podlaska, Poland, 11.09-30.11.2011
''The Sacred Face'', March 2014, as a part of MESP Festival. Edinburgh. Curated.
''Doorways to the Divine'', January 2015. St. Margaret's House. Edinburgh. Curated.
''Artist as a Seer in a quantum age'', march 2015. MESP Festival. Summer Hall. Edinburgh. Curated.

You can learn more about Basia's work via the following links:

https://basiamindewicz.weebly.com/about.html

https://edinburghiconpainting.org/

https://www.facebook.com/EdinburghSchoolOfIconPainting/