Basket Weaving with Anna Liebmann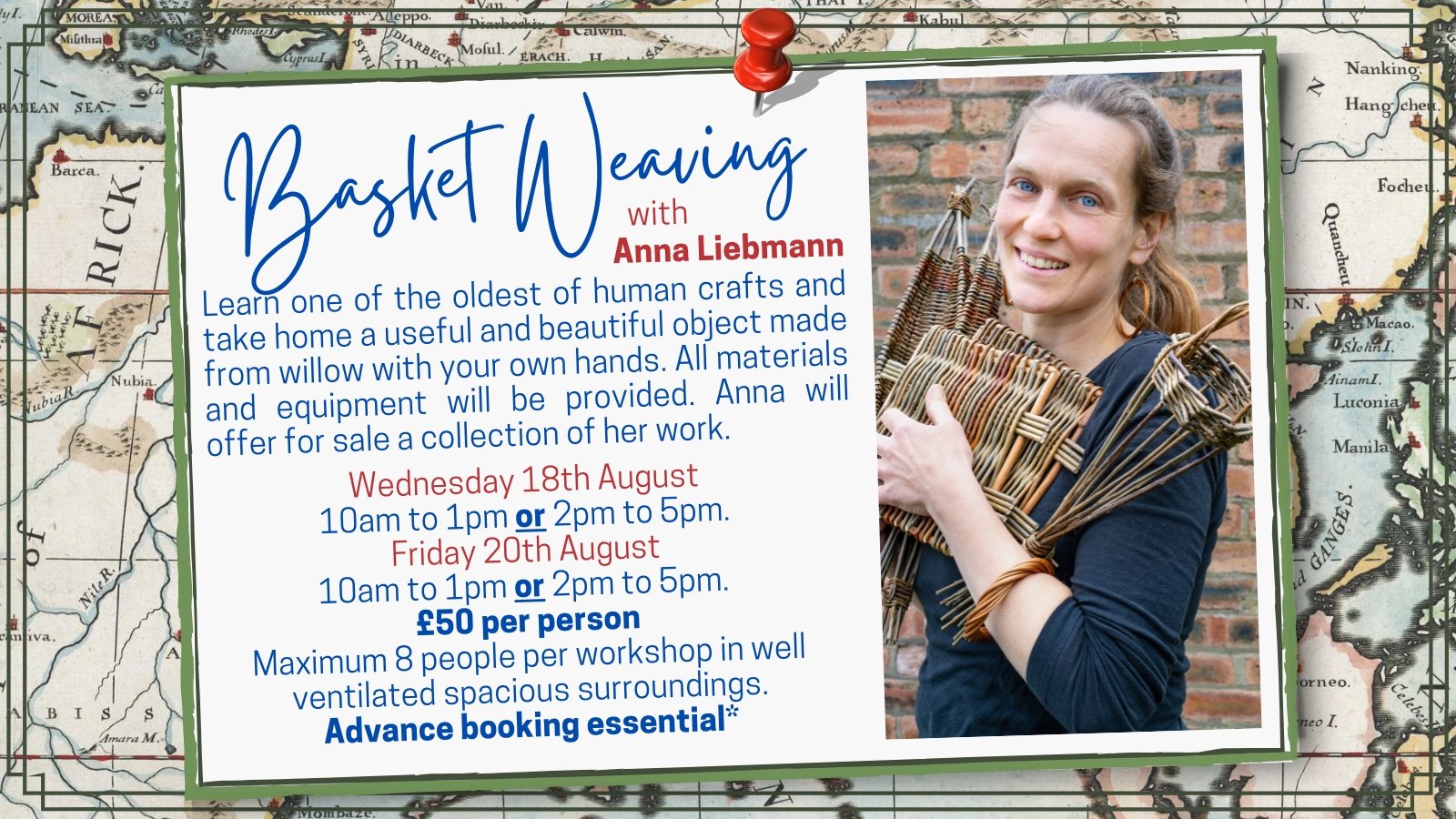 Basket Making Workshop with Anna Liebmann 
Learn one of the oldest of human crafts and take home a useful and beautiful object made from willow with your own hands. All materials and equipment will be provided. Anna will offer for sale a collection of her work. 
Maximum 8 people per workshop in well ventilated spacious surroundings. Workshop duration: 3hrs.
Cost is £50 per person. 
Workshop dates:
Wednesday 18th August, 10 am to 1pm 
Garlic Basket
We will be making a practical and stylish garlic holding basket, with a handle, to hang in your kitchen. The basket is long and thin, tapering towards the bottom. Alternatively, the basket is the right size to fit bird fat balls in and can be hung outside for birds to feed on.
We will use a former to position the uprights initially, then use a 'pairing 'weave to hold them in place, creating the shape and making the collar of the basket. The uprights will be pulled together and tied with a piece of willow in a Japanese style knot, then the basket removed from the former and a border woven with the uprights to lock them together. After trimming the basket off, a simple handle will be made by inserting a rod into the weaving, taking it over the top, through the other side, and back again then weaving away to secure.
Bring your own secateurs if you like.

Wednesday 18th August, 2pm to 5pm 
Square Platter
We will be making a woven square platter suitable for holding a pot or using as a tray, working with a pre-dried square hoop that Anna will have made in advance. Students will work with the platters on their knees, initially creating tension to hold the cross pieces on place, then building up pattern and tension with the thick and thin ends of each willow rod, and experimenting with colours and the different workability of barked and stripped willows. When the piece is finished, Anna will demonstrate how to construct the hoop from very large willow, using a join and pins, which students can then make to take away, dry, and hopefully use in the future.
Bring your own secateurs if you like.


Friday 20th August, 2pm to 5pm 
Nut Basket 
We will be making a gorgeous long thin basket made from stout ribs and very fine beautiful coloured willows for the weaving. We will initially hold the ribs in place using a cardboard former and rubber bands (all the tricks of the trade!!), and once the shape is set, remove these which will also make enable the weaving rods to pass in and out more easily. Each student's basket is likely to take on its own unique character, and people will be able to use Anna's homegrown organic willows in striking different colours to enable this! Attention will be given to the grading of the willows and the shaping of the pieces, and each person will leave with their own masterpiece.
Bring your own secateurs if you like.
Tickets available here.